Foot Facts: Keep Your Feet Healthy!
Helpful Healthy Feet Tips
Here at Tops Shoes, New Balance, and Red Wing, we have one priority: keeping your feet healthy with everything from custom fittings to insoles, socks, and appropriate footwear for just about every situation. Our years of experience in Arkansas have led to the healthy feet tips below.
Give your feet time to adjust to new shoes – walk around casually for a couple of days before working out.

Feet get larger with age. We recommend you have your feet measured once a year.

Women's feet may become a half size larger or more after pregnancy.

When fitting shoes, make sure you wear the type of socks you'll wear with the shoes. The "wrong" socks will alter the fit.

Feet swell during the day. Try on shoes later in the day when your feet are the largest.

Bring your old athletic shoes to the store– tread wear and stress areas will help guide you to your next selection.

Specific shoes are designed to enhance performance for specific activities – if you plan to run, don't buy cross trainers – buy running shoes.

The heel should fit snugly with no slippage.

The midfoot, the area under your arch and over your instep, should fit snug and not tight.

The toe-box should have enough room to wiggle your toes.

Your left and right foot may differ by as much as a full size. Measure both and fit the larger foot.

Your shoes are too small if your feet cramp or fall asleep while running or just afterward or blisters and calluses occur between your toes.

Rule of thumb for shoes – if they hurt in the store, they'll hurt at home.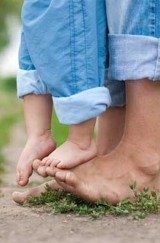 Fit Facts for Healthy Kids
Don't hesitate to ask a pediatrician for advice if you have questions.

From birth to three years old, your child's feet will grow a half size every three months.

Don't let a child wear "hand-me-down" shoes. They've already been formed to fit another foot.

Shoe size should be checked every four to six months.

Select a footwear category based on the function of the shoe.

Pay attention to the size, but also the overall fit: Length, width, height and comfort.

Getting the child properly fit is important. Please get help from a fitting professional.

Footwear should work with your child's foot and not inhibit its natural motion.

The younger, the better: Take care of your child's foot problems now, and they are more likely to self-correct as the child grows up.